Read Time:
3 Minute, 29 Second
In the world of beauty and cosmetics, the allure of luxury often comes with a bold display of opulence and extravagance. However, there exists a subset of products that exude a different kind of luxury – a refined elegance that speaks volumes in hushed tones. These are the "quiet luxury" foundations, products that do not shout for attention, but rather captivate with their exquisite formulas and timeless results. In this article, we uncover the allure of these understated yet powerful foundations that deserve a spot in your beauty collection.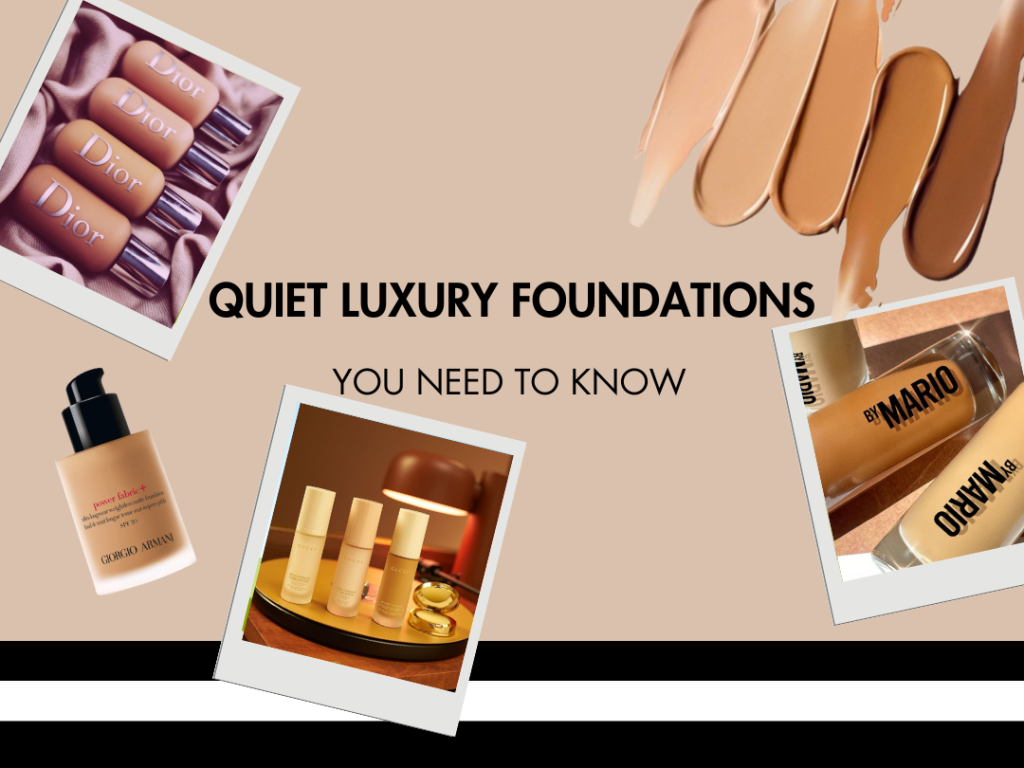 The Art of Subtle Sophistication:
Quiet luxury is an art form, an understated elegance that transcends trends and embodies enduring class. These foundations are not adorned with ostentatious packaging or flashy marketing campaigns; instead, they rely on their exceptional quality and performance to make an impact. These products are crafted with meticulous attention to detail, carefully curated ingredients, and a commitment to providing a flawless complexion that stands the test of time.
Effortless Perfection with "Second Skin" Formulas:
One of the defining characteristics of quiet luxury foundations is their ability to provide an "invisible" finish – as if your skin is naturally flawless. These formulas are often referred to as "second skin" foundations because they seamlessly blend into your complexion, creating a soft-focus effect that blurs imperfections without masking your skin's natural beauty. They enhance your features while remaining imperceptible, allowing you to put your best face forward with confidence.
The Power of Tailored Shade Ranges:
Quiet luxury foundations are not about catering to the masses; they prioritize a curated approach. These foundations often offer an impressive range of shades to cater to various undertones and complexions, ensuring that every individual can find their perfect match. Rather than being overwhelmed by choice, you're presented with a thoughtfully curated selection that simplifies the process of finding your ideal shade, demonstrating the commitment to quality over quantity.
Innovative Formulas for Skin Care Benefits:
What sets quiet luxury foundations apart is their incorporation of skin-loving ingredients that go beyond mere coverage. These foundations often include antioxidants, hyaluronic acid, and other nourishing elements that work synergistically to improve your skin's texture and appearance over time. The focus is not just on concealing imperfections, but on enhancing your skin's health and radiance, embodying the essence of luxury that goes beyond the surface.
The Whispers of Timeless Elegance:
Quiet luxury foundations are a testament to the concept of "less is more." They embrace a timeless elegance that is not swayed by fleeting trends, providing a consistent and reliable option for any occasion. With their light-to-medium coverage and ability to enhance your natural beauty, these foundations are equally fitting for everyday wear as they are for special events. They offer versatility and sophistication without overshadowing your individuality.
An Investment in Longevity:
While quiet luxury foundations may come with a higher price point, they are a worthy investment in your beauty routine. These products are meticulously formulated to ensure that a little goes a long way, offering buildable coverage that requires minimal product for maximum effect. Their longevity on your skin throughout the day means that touch-ups are minimal, making them a practical choice for busy individuals who seek enduring elegance.
Whispering Luxury into Your Beauty Routine:
As the beauty industry continues to evolve, the allure of quiet luxury foundations remains steadfast. They are a reminder that true luxury does not always announce itself with fanfare; instead, it whispers elegance and sophistication into every aspect of your beauty routine. From the seamless finish that mimics second skin to the nourishing ingredients that benefit your complexion, these foundations are a celebration of subtlety and refinement.
In a world often dominated by the flashy and the extravagant, it's essential to appreciate the quiet luxury that can be found in beauty products that prioritize quality, effectiveness, and timelessness. Quiet luxury foundations embody the art of understated elegance, allowing your natural beauty to shine through while enjoying the benefits of expertly crafted formulas. As you explore the options available to you, consider inviting these unassuming yet impactful products into your beauty collection – because sometimes, the most remarkable luxury lies in the whispers rather than the shouts.