Read Time:
4 Minute, 24 Second
A wedding is a celebration of love, a cherished union that marks the beginning of a new chapter in two lives intertwined. At the heart of this momentous occasion lies the wedding dress, a symbol of beauty, style, and the bride's unique personality. Choosing the right wedding dress is a journey that goes beyond fabric and design; it's a quest to find the gown that encapsulates the essence of the bride and enhances the radiance of the moment. In this guide, "Eternal Elegance: A Guide to Choosing the Perfect Wedding Dress," we delve into the art of selecting a dress that not only complements the bride's silhouette but also speaks to her heart, creating a lasting memory of the most important day of her life.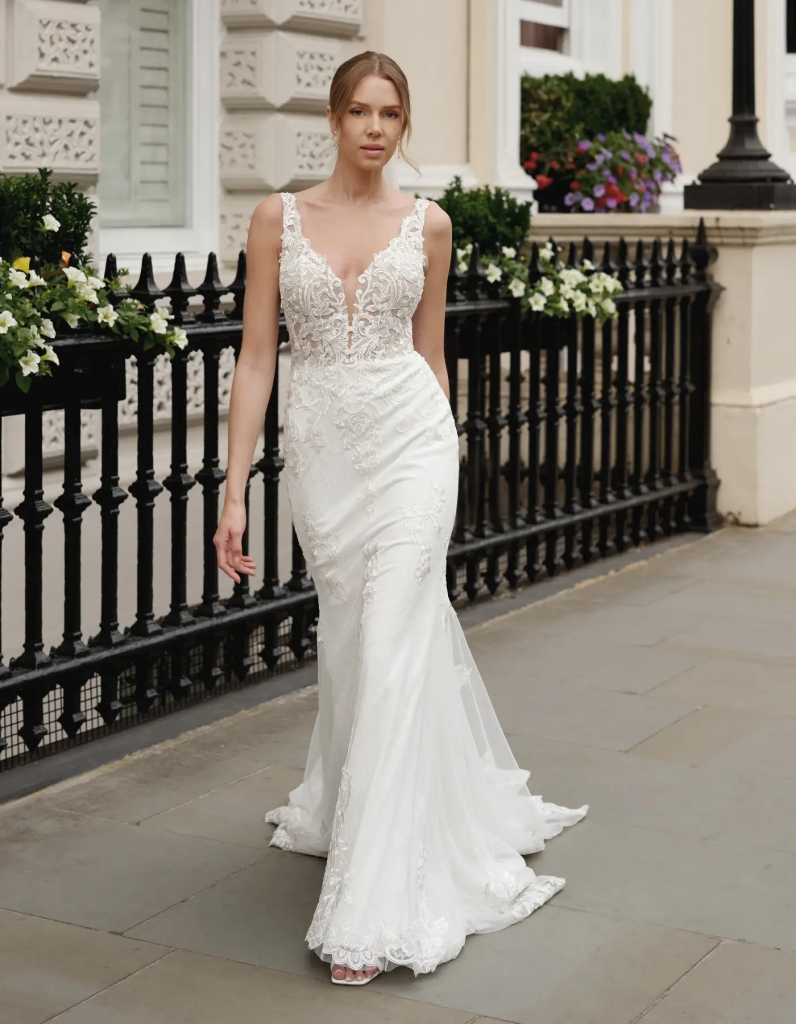 Understanding Your Style
The journey to finding the perfect wedding dress begins with understanding your personal style and preferences. Your wedding dress should be a reflection of who you are, capturing your essence and showcasing your unique taste. Take the time to explore various styles, from classic and traditional to modern and avant-garde. Consider the types of clothing you feel most comfortable and confident in – your everyday style can offer valuable insights into what resonates with you on a deeper level.
Whether you envision a sleek and minimalist gown, a princess-worthy ball gown, or something in between, it's essential to stay true to yourself. Consult bridal magazines, Pinterest boards, and fashion inspiration to gather ideas and create a visual representation of your dream dress. Remember that trends may come and go, but your wedding photos will stand the test of time, so prioritize a style that feels timeless and genuinely you.
Body Type and Silhouette
Understanding your body type is key to choosing a wedding dress that flatters your figure and highlights your best features. Different silhouettes complement different body shapes, so take the time to discover what works best for you. For example:
A-line dresses are universally flattering, cinching at the waist and gently flowing out, creating an elegant silhouette.
Ball gown dresses emphasize the waist and offer a dramatic full skirt, making them ideal for those seeking a fairytale look.
Sheath dresses provide a sleek and modern aesthetic, hugging the body's natural contours.
Mermaid and trumpet dresses hug the body until they flare out at or below the knee, accentuating curves for a more glamorous look.
It's important to remember that the perfect dress not only fits your body but also enhances your confidence and comfort. Be open to trying on different silhouettes to determine what makes you feel radiant and beautiful.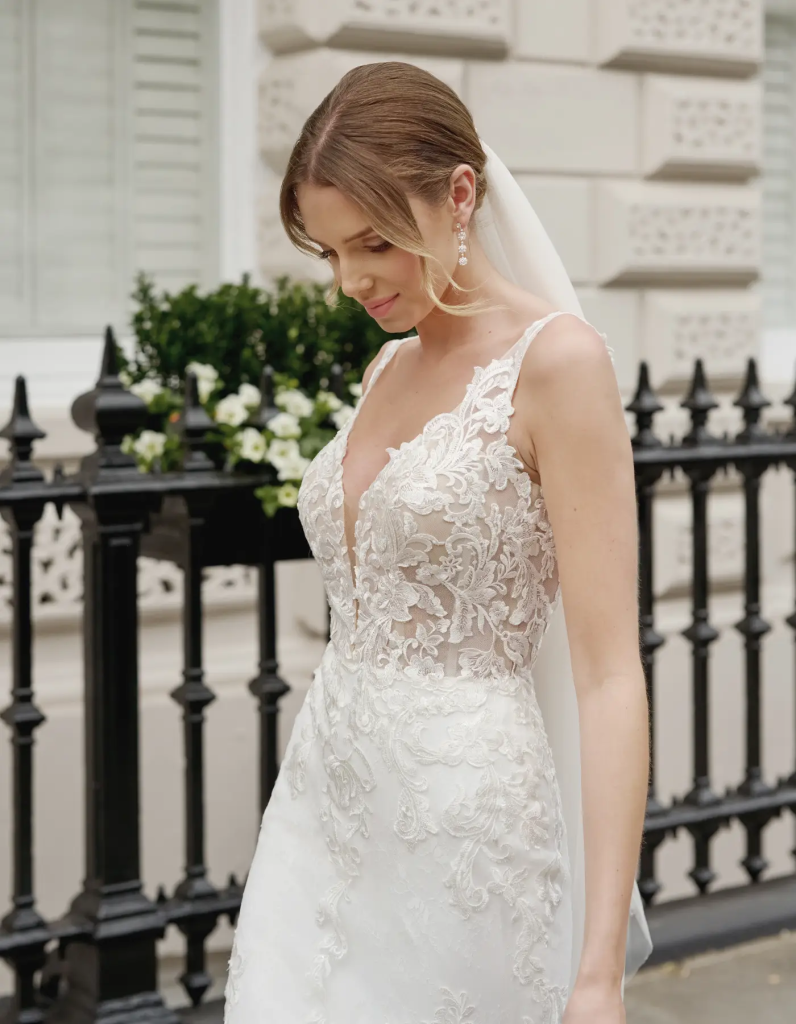 Fabrics and Embellishments
The choice of fabric contributes to the overall look and feel of your wedding dress. From luxurious silk and satin to romantic lace and tulle, each fabric offers a distinct texture and drape. Consider the season and setting of your wedding when selecting fabrics – lightweight materials like chiffon and organza are ideal for warm weather, while heavier options like velvet or brocade are well-suited for winter weddings.
Embellishments add a touch of individuality and personality to your dress. Whether you prefer delicate beading, intricate embroidery, or subtle appliqué, these details can transform a simple gown into a work of art. However, moderation is key – opt for embellishments that enhance the dress without overwhelming it, ensuring a harmonious and balanced look.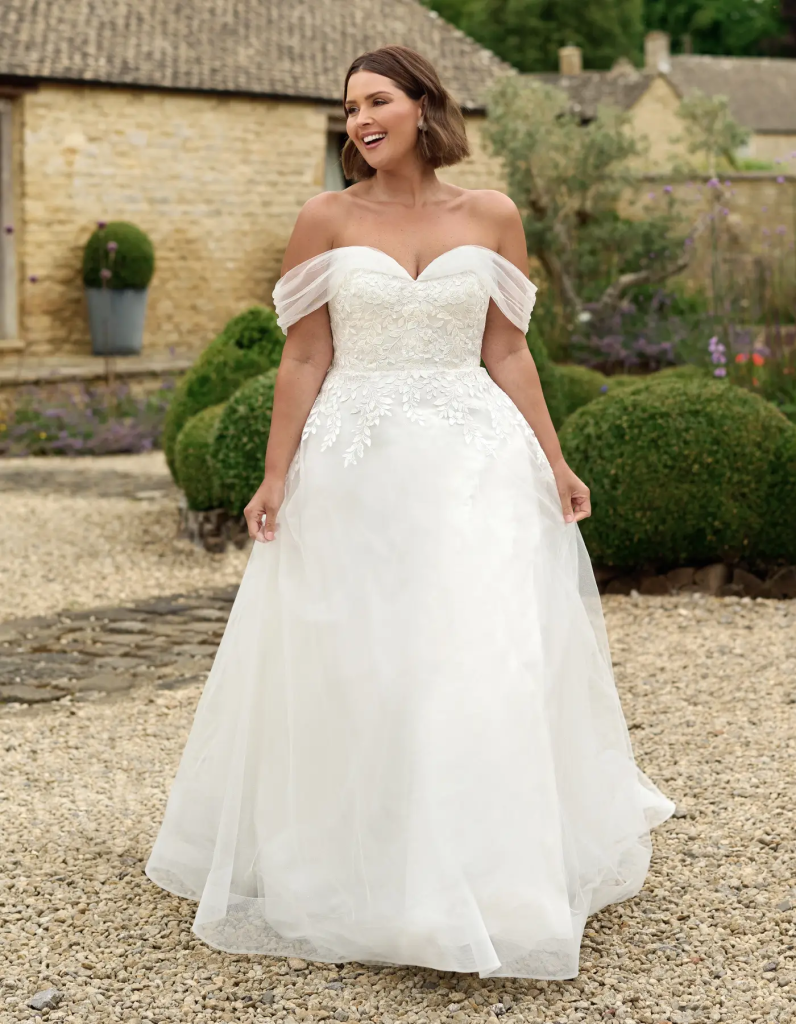 Comfort and Mobility
Your wedding day is a whirlwind of emotions and activities, from walking down the aisle to dancing the night away. As you explore different dress options, prioritize comfort and mobility. Ensure that the dress allows you to move freely, sit comfortably, and embrace loved ones with ease. Consider the length of the train, the weight of the fabric, and any potential boning or corsetry that might affect your mobility.
During your fittings, take the opportunity to walk, sit, and move around to get a sense of how the dress feels in different scenarios. Remember that comfort goes hand in hand with confidence – a comfortable bride radiates joy and beauty throughout her special day.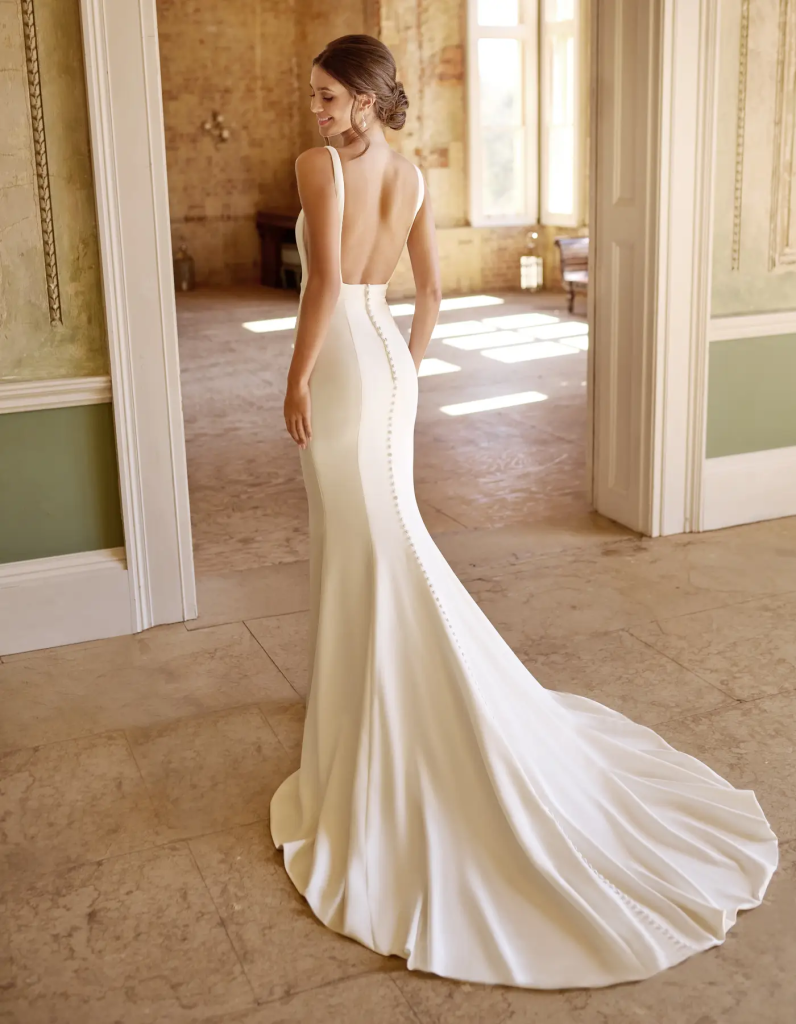 Budget and Alterations
Setting a budget for your wedding dress is a practical and essential step. Wedding dresses come in a wide range of price points, and it's crucial to find a dress that aligns with your financial plan. Keep in mind that alterations, such as hemming, taking in or letting out the bodice, and adjusting the length of the train, are often necessary to achieve the perfect fit. Allocate a portion of your budget for these alterations to ensure that your dress looks tailored to your body.
Final Thoughts
Choosing the right wedding dress is a deeply personal and significant decision, one that combines style, emotion, and practicality. Your wedding dress should make you feel like the best version of yourself – confident, beautiful, and ready to embark on a new journey. By understanding your style, body type, and preferences, considering fabric and embellishments, prioritizing comfort and mobility, and staying mindful of your budget, you'll be well-equipped to find a gown that embodies the eternal elegance of your love story. As you step into your chosen dress on your wedding day, you'll not only be dressed in exquisite fabric but also in the radiance of a moment that will remain etched in your heart forever.