Read Time:
3 Minute, 38 Second
The allure of ear piercing transcends time, cultures, and generations, as this ancient form of body adornment continues to captivate and charm. Whether it's a subtle stud or an intricate constellation of piercings, the art of ear piercing is a powerful means of self-expression. In this comprehensive guide, we will journey through the realms of history, types of piercings, preparation and safety, aftercare rituals, and the emotional significance that make ear piercing a timeless and cherished practice.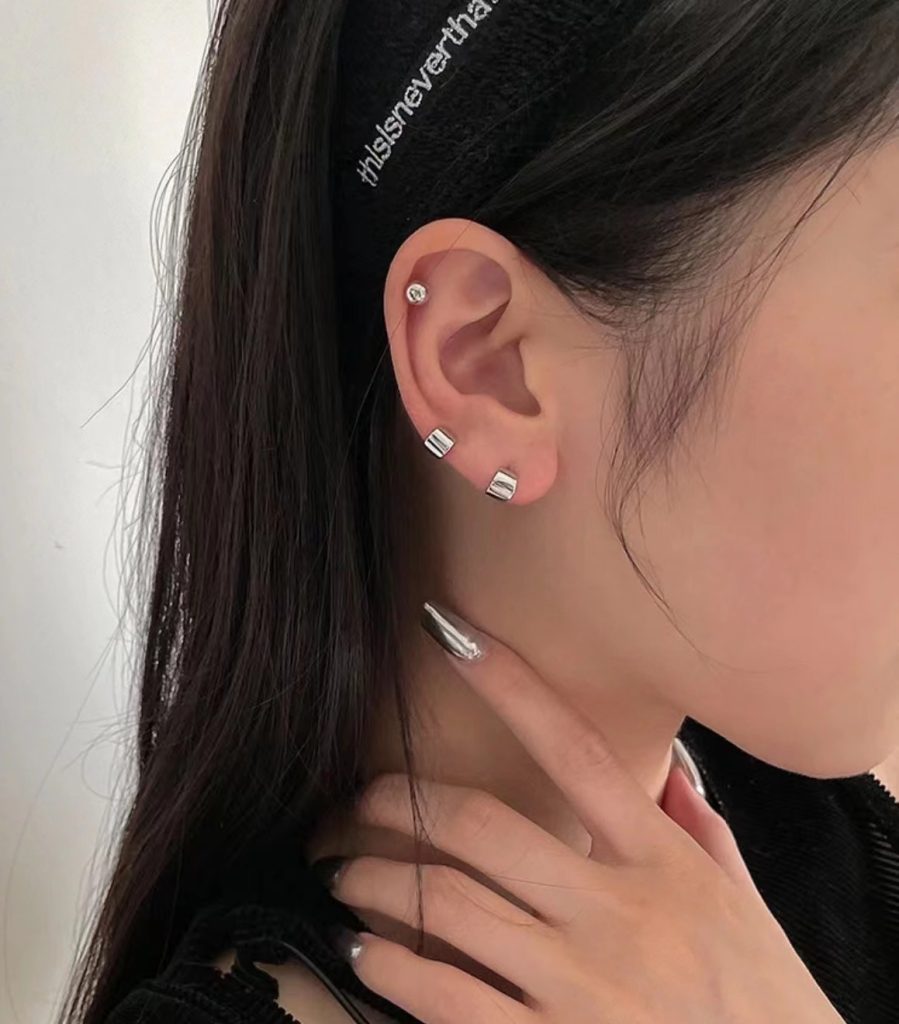 A Glimpse into the Past: Ear piercing has deep roots in human history, spanning across cultures and civilizations. From the ancient Egyptians who believed earrings held protective powers, to tribal societies using piercings to symbolize status and rites of passage, this practice has adorned ears for millennia. Today, ear piercing remains a way to celebrate individuality while honoring a tradition that has withstood the test of time.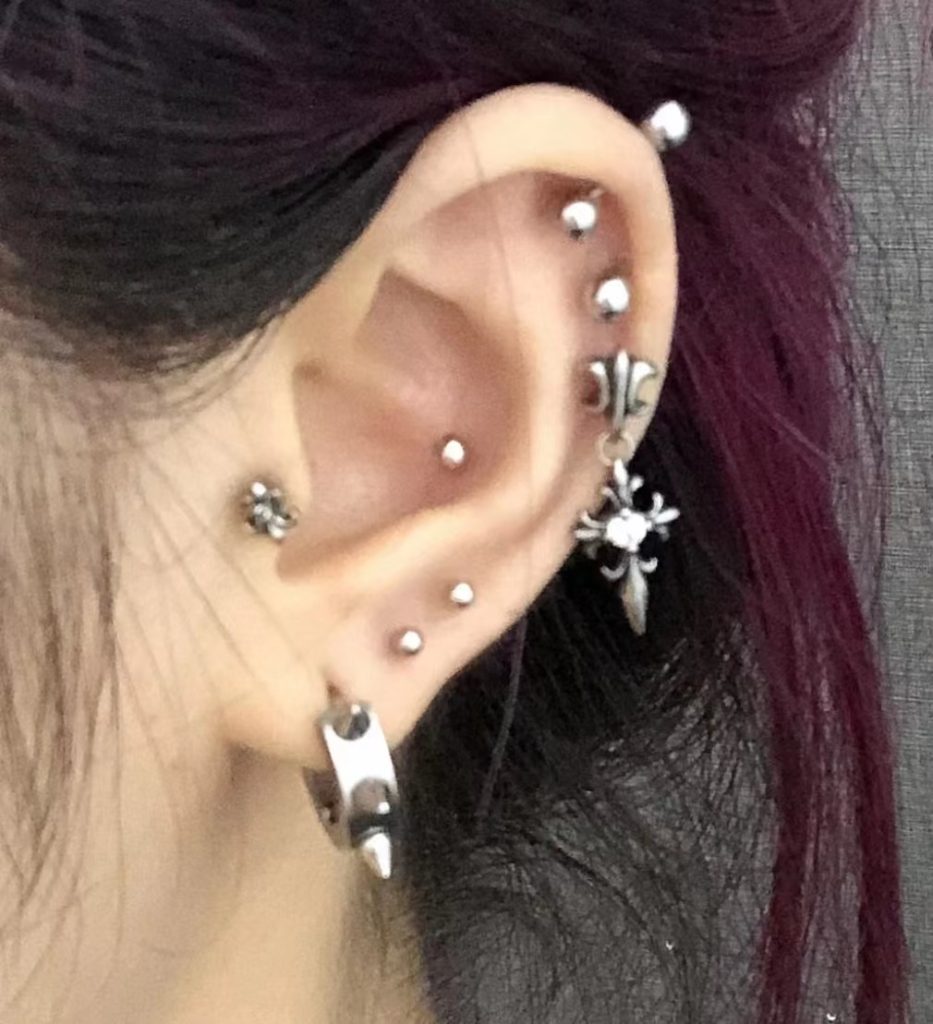 Exploring the Types of Ear Piercings: The canvas of the ear offers a tapestry of piercing possibilities, each with its own unique charm. The classic lobe piercing serves as a gateway to this art form, while cartilage piercings, such as the helix, tragus, and conch, create intricate and personalized arrangements. The daith, snug, and rook piercings delve into more creative territory, allowing enthusiasts to curate a constellation of piercings that reflect their style and personality.
Preparation and Safety: Navigating the Piercing Process: Before embarking on an ear piercing journey, thorough preparation is essential. Choosing a reputable piercing studio with skilled and experienced piercers ensures a safe and comfortable experience. Look for studios that prioritize hygiene, follow strict sterilization procedures, and use high-quality, hypoallergenic materials. Asking questions and understanding the process beforehand will help alleviate any apprehensions.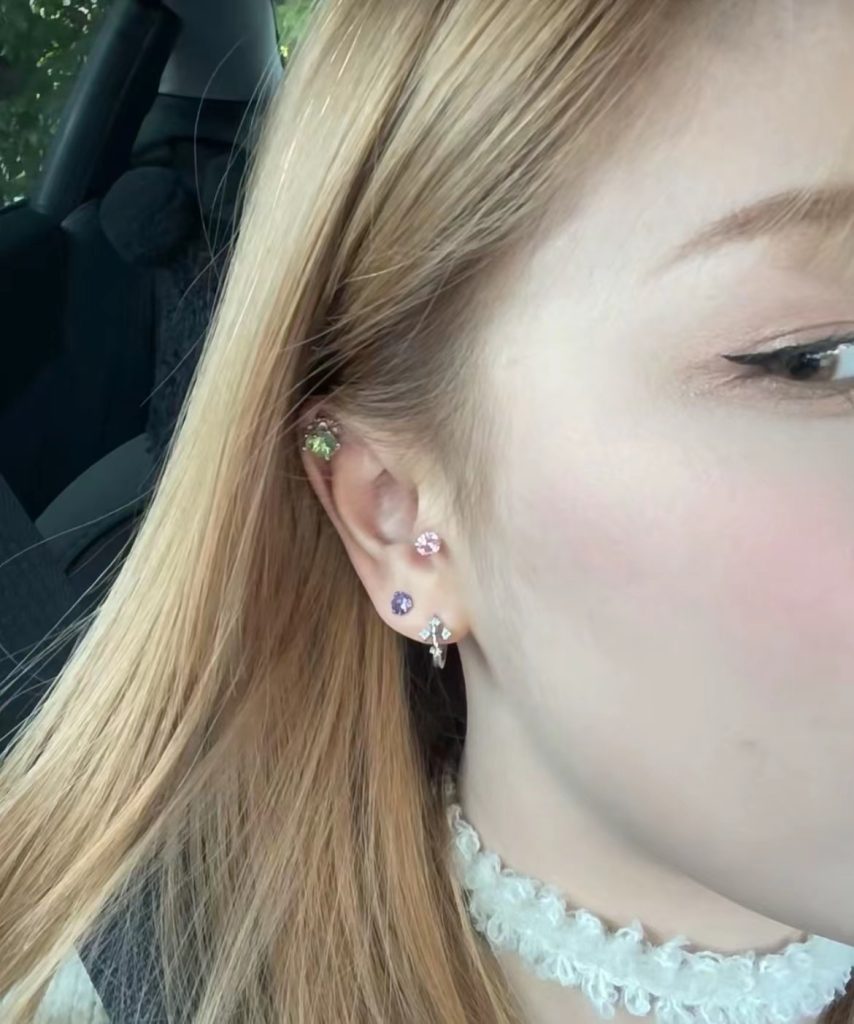 The Jewel in the Crown: Selecting the Perfect Jewelry: Choosing the right jewelry is a crucial step in the ear piercing journey. Opt for jewelry made from materials such as surgical steel, titanium, or niobium to minimize the risk of allergies or infections. The style of jewelry, whether a delicate stud, an ornate hoop, or an artistic barbell, allows you to curate a look that resonates with your personal aesthetic, making your ear piercings a true reflection of your individuality.
Caring for Your Ear Piercings: A Ritual of Healing: Proper aftercare is paramount for ensuring a smooth and successful healing process. Following the guidelines provided by your piercer, which typically include cleaning with a saline solution and avoiding unnecessary touching, helps prevent infections and complications. Be patient, as healing times vary for different types of piercings, and remember that good aftercare habits contribute to vibrant and healthy piercings.
Embracing the Experience: Acknowledging Discomfort: While ear piercing is a relatively quick procedure, some discomfort is normal. Pain tolerance varies from person to person, and factors such as the location of the piercing and individual sensitivities play a role. The initial sensation is often likened to a brief pinch or sting, dissipating quickly. Embracing the temporary discomfort allows you to focus on the excitement of the transformation that lies ahead.
The Art of Curating: Mixing and Matching Jewelry: As your piercings heal and become a seamless part of your identity, the art of curating jewelry becomes an enjoyable endeavor. Mixing and matching jewelry styles, sizes, and metals offers a playground of possibilities. Experimenting with combinations allows you to craft a symphony of ear adornments that resonate with your mood, style, and the stories you wish to tell.
Beyond the Aesthetic: The Emotional Connection: Ear piercings often hold profound emotional significance beyond their visual appeal. They can mark milestones, celebrate achievements, or pay homage to cherished memories. The act of choosing and adorning jewelry becomes a tangible connection to one's journey, a constant reminder of personal growth and the chapters that shape one's life. Each piercing becomes a unique talisman, radiating meaning and energy.
Conclusion: The Elegance of Self-Expression Through Ear Piercing: In a world where self-expression takes on many forms, ear piercing stands as a timeless and elegant means of communicating one's individuality. Through a rich history, diverse piercing options, meticulous preparation, and a commitment to aftercare, ear piercing becomes a journey of both external adornment and inner exploration. As each new stud or hoop adorns the ear, it adds another layer to the tapestry of self-expression, a testament to the beauty of embracing uniqueness while honoring a tradition that transcends time.