Read Time:
3 Minute, 20 Second
A lustrous mane of strong, shiny hair is often seen as a symbol of beauty and vitality. However, achieving and maintaining healthy hair goes beyond just using the right hair products. A key factor in hair health is the condition of the scalp. A healthy scalp provides a nourishing environment for hair follicles, promoting strong and shiny hair growth. In this essay, we will explore seven essential tips for maintaining a healthy scalp, which, in turn, leads to strong, shiny hair.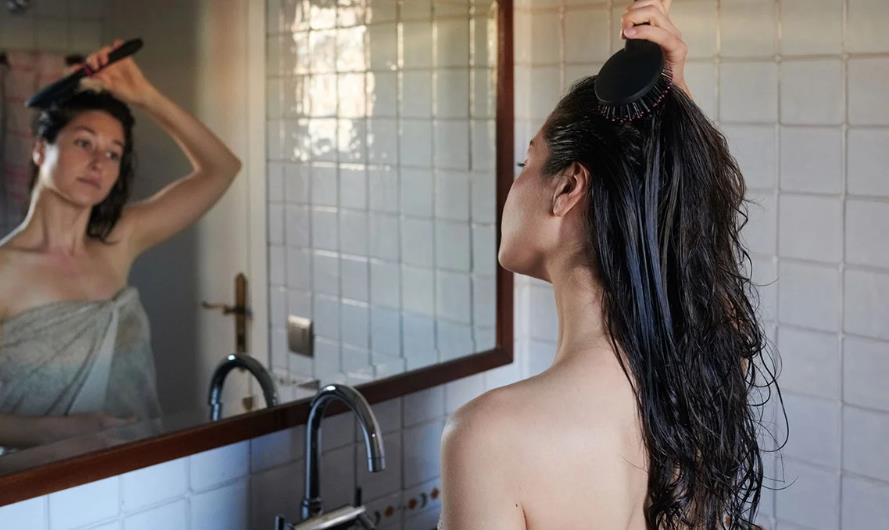 Keep Your Scalp Clean
Maintaining a clean scalp is fundamental to hair health. Regularly wash your hair with a gentle, sulfate-free shampoo to remove dirt, excess oil, and product buildup. Overwashing can strip the scalp of its natural oils, leading to dryness and irritation. Aim to wash your hair every two to three days, or as needed based on your hair type and lifestyle. Be sure to rinse thoroughly to avoid any residual product on your scalp, which could clog hair follicles and impede hair growth.
Exfoliate Your Scalp
Similar to the skin on your face, your scalp can benefit from exfoliation. Gently massaging the scalp with a scalp scrub or a brush can help remove dead skin cells, unclog hair follicles, and improve blood circulation. This process encourages healthier hair growth and ensures that hair follicles are not obstructed by debris or excess sebum.
Maintain a Balanced Diet
A well-balanced diet plays a significant role in promoting healthy hair and scalp. Ensure you are consuming an adequate amount of essential nutrients such as protein, vitamins (especially A, C, D, and E), and minerals (like iron and zinc). These nutrients nourish the scalp and hair follicles, supporting the growth of strong and shiny hair. Include a variety of fruits, vegetables, lean proteins, and healthy fats in your diet to support overall hair health.
Stay Hydrated
Hydration is crucial not only for your body but also for your scalp. Drinking enough water ensures that your scalp remains moisturized and healthy. Dehydration can lead to a dry, itchy scalp, and in severe cases, it may affect hair growth. Aim to drink at least eight glasses of water per day and more if you engage in physical activities that cause you to sweat excessively.
Avoid Overuse of Heat Styling Tools
Frequent use of heat styling tools such as blow dryers, curling irons, and straighteners can cause damage to your hair and scalp. Excessive heat can strip away the natural oils from your scalp, leading to dryness and brittleness in your hair. Whenever possible, air-dry your hair or use heat styling tools on a low or medium setting to minimize potential damage. Additionally, apply a heat protectant spray before using any heat styling tools to create a barrier and protect your hair from excessive heat exposure.
Minimize Stress
Stress can have a significant impact on both hair and scalp health. Chronic stress may lead to conditions like telogen effluvium, where hair prematurely enters the resting phase and eventually falls out. Practice stress-reduction techniques such as meditation, yoga, or spending time in nature to help manage stress levels and promote a healthy scalp and hair.
Use Scalp-Specific Treatments
Incorporate scalp-specific treatments into your hair care routine. Look for products containing ingredients like tea tree oil, aloe vera, or peppermint oil, which have soothing and antimicrobial properties that can help maintain a healthy scalp. You can also consider using hair masks or serums designed to nourish and hydrate the scalp, promoting optimal hair growth and shine.
Conclusion
Achieving strong, shiny hair starts with a healthy scalp. By following these seven essential tips, you can maintain a nourishing environment for your hair follicles and promote healthy hair growth. Remember to keep your scalp clean, exfoliate regularly, maintain a balanced diet, stay hydrated, minimize heat styling, manage stress, and use scalp-specific treatments. With proper care and attention, you can enjoy a head of beautiful, strong, and shiny hair that reflects your overall well-being and radiates confidence.