Read Time:
3 Minute, 20 Second
In the ever-evolving world of beauty, there are iconic brands that stand the test of time, each bearing a legacy of innovation and excellence. Among these luminaries, Lancôme reigns supreme, synonymous with timeless elegance and cutting-edge formulations. Today, we embark on a journey to discover the enchantment woven within Lancôme's TEINT IDOLE ULTRA WEAR FOUNDATION. This transformative foundation is not merely a cosmetic, but a canvas upon which Lancôme's heritage of beauty craftsmanship and modernity converge. Join us as we delve into the history of Lancôme and unveil the mesmerizing ingredients and efficacy of TEINT IDOLE ULTRA WEAR FOUNDATION.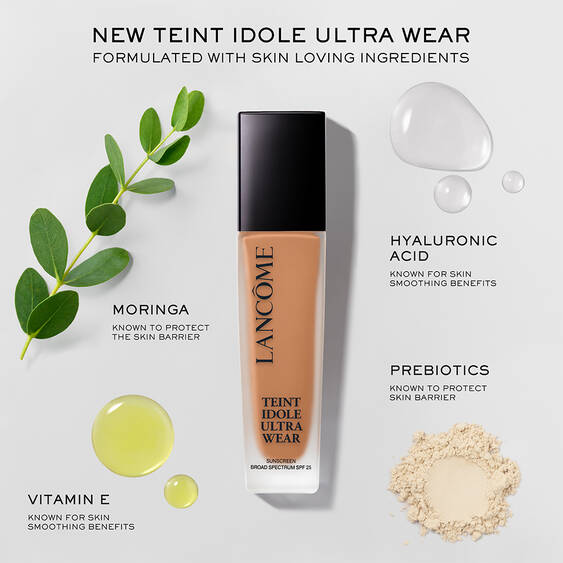 A Legacy of Timeless Beauty: Lancôme's Rich History
Lancôme's story began in 1935 when Armand Petitjean founded the brand in France, inspired by the allure and romance of the rose. From its inception, Lancôme was envisioned as a destination where science and artistry merge, creating products that celebrate the radiance of every individual. Over the decades, Lancôme has remained committed to crafting luxurious and effective skincare and makeup, staying true to its mission of empowering women to embrace their unique beauty.
The Magic Within: Analyzing TEINT IDOLE ULTRA WEAR FOUNDATION
Lancôme's TEINT IDOLE ULTRA WEAR FOUNDATION is a testament to the brand's dedication to creating makeup that not only enhances but also nourishes the skin. Let's unravel the key ingredients and efficacy of this foundation that has become a staple in the beauty arsenals of makeup enthusiasts worldwide.
Long-Lasting Perfection: TEINT IDOLE ULTRA WEAR FOUNDATION boasts an exceptional long-wear formula that stands up to the demands of a modern, dynamic lifestyle. This foundation creates a flawless canvas that lasts for hours, maintaining its exquisite finish from day to night. The lightweight texture effortlessly glides onto the skin, offering buildable coverage without feeling heavy or cakey.
Oil-Free Comfort: A hallmark of Lancôme's commitment to quality is the foundation's oil-free formulation. This feature is particularly beneficial for those with oily or combination skin, as it helps control excess oil and shine throughout the day. The result is a radiant complexion that remains velvety-smooth and comfortable.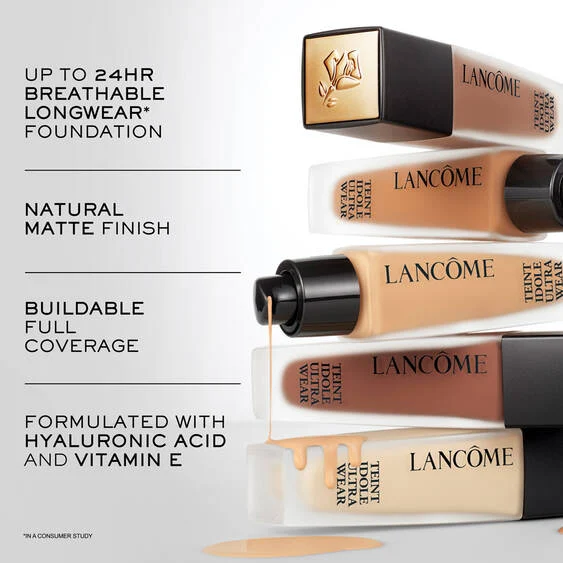 High Coverage, Natural Finish: TEINT IDOLE ULTRA WEAR FOUNDATION strikes the perfect balance between high coverage and a natural, breathable finish. This attribute makes it versatile, catering to different preferences and occasions. Whether you desire a sheer, luminous look or a full-coverage, polished finish, this foundation adapts to your needs with finesse.
Broad Spectrum SPF 15: In an era where sun protection is a cornerstone of skincare, TEINT IDOLE ULTRA WEAR FOUNDATION features a valuable addition: broad-spectrum SPF 15. This protective shield defends your skin from the sun's harmful UV rays, helping to prevent premature aging and maintaining the health and vitality of your complexion.
Effortless Application: TEINT IDOLE ULTRA WEAR FOUNDATION is designed for ease of application, effortlessly blending into the skin for a seamless finish. Whether you prefer a makeup brush, sponge, or even your fingertips, the foundation adapts to your chosen method, ensuring a flawless result every time.
Empowerment Through Beauty: Unveil Your Unique Radiance
Beyond its exquisite formulation, Lancôme's TEINT IDOLE ULTRA WEAR FOUNDATION embodies a philosophy of empowerment. It invites you to embrace your unique beauty, to express yourself with confidence, and to bask in the luminosity that emanates from within. As you apply this foundation, you become part of a legacy that celebrates individuality and grace.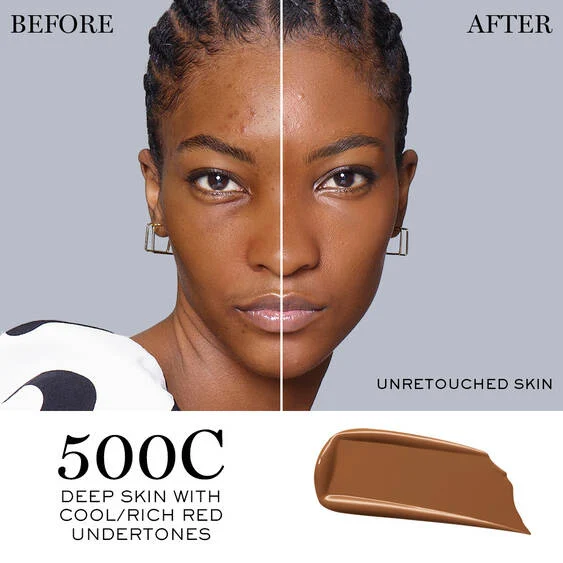 Conclusion: Elegance Embodied in Every Drop
Lancôme's TEINT IDOLE ULTRA WEAR FOUNDATION is a symphony of elegance and efficacy, a masterpiece that marries the brand's storied heritage with modern beauty aspirations. It is more than a cosmetic product; it is an embodiment of Lancôme's dedication to enhancing the allure and confidence of every person who embraces it. As you adorn your skin with this foundation, you paint a portrait of timeless beauty, revealing the radiant masterpiece that is you. Lancôme invites you to step into the enchantment of TEINT IDOLE ULTRA WEAR FOUNDATION and unlock the potential for limitless elegance and grace.