Read Time:
3 Minute, 30 Second
In the vast realm of skincare, few brands have stood the test of time and earned the trust of beauty enthusiasts like Kiehl's. With a legacy rooted in quality and innovation, Kiehl's has consistently delivered products that resonate with skincare aficionados seeking authentic, effective solutions. One such gem from their treasure trove is the Kiehl's Rare Earth Deep Pore Minimizing Cleansing Clay Mask—a true testament to the brand's commitment to healthy, radiant skin.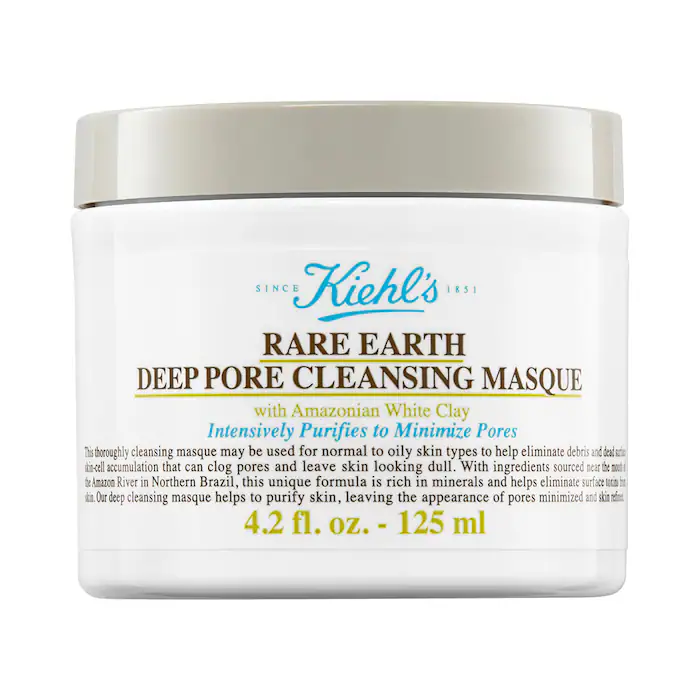 A Legacy of Excellence:
Before we dive into the remarkable benefits of the Rare Earth Deep Pore Minimizing Cleansing Clay Mask, let's take a moment to appreciate the rich heritage of Kiehl's. Established in 1851 as an old-world apothecary in New York's East Village, Kiehl's started its journey by crafting potent remedies with natural ingredients to address various skin concerns. Over the decades, the brand's dedication to quality and personalized skincare has garnered a loyal following, making Kiehl's a household name synonymous with integrity and results.
The Science of Purity:
The Rare Earth Deep Pore Minimizing Cleansing Clay Mask is a true reflection of Kiehl's commitment to combining the power of nature with scientific innovation. At the heart of this transformative product lies its exquisite blend of ingredients, carefully curated to address the concerns of modern skin.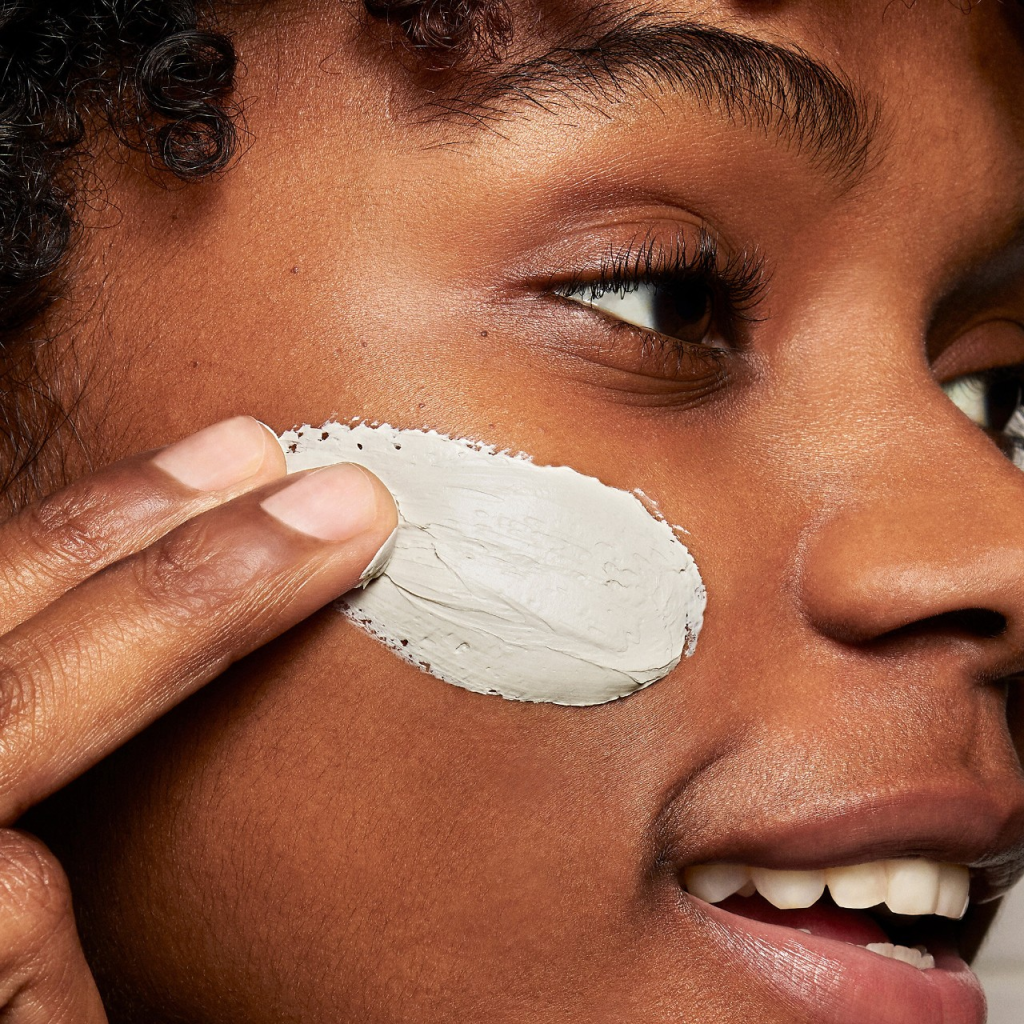 Rare Earth Minerals: The star of the show, rare Amazonian white clay, forms the cornerstone of this mask. Known for its exceptional absorbent properties, this mineral-rich clay draws out impurities, excess oil, and toxins from deep within the pores, leaving the skin detoxified and refreshed. It's a harmonious collaboration between the earth's gifts and cutting-edge skincare technology, resulting in a formula that's gentle yet impactful.
Aloe Barbadensis: To counterbalance the cleansing prowess of the clay, Kiehl's has infused the mask with soothing Aloe Barbadensis. Recognized for its calming and hydrating attributes, Aloe helps maintain the skin's moisture balance, preventing any potential dryness that might arise from the deep-cleansing process. This thoughtful inclusion ensures that your skin emerges from the masking ritual feeling rejuvenated, not stripped.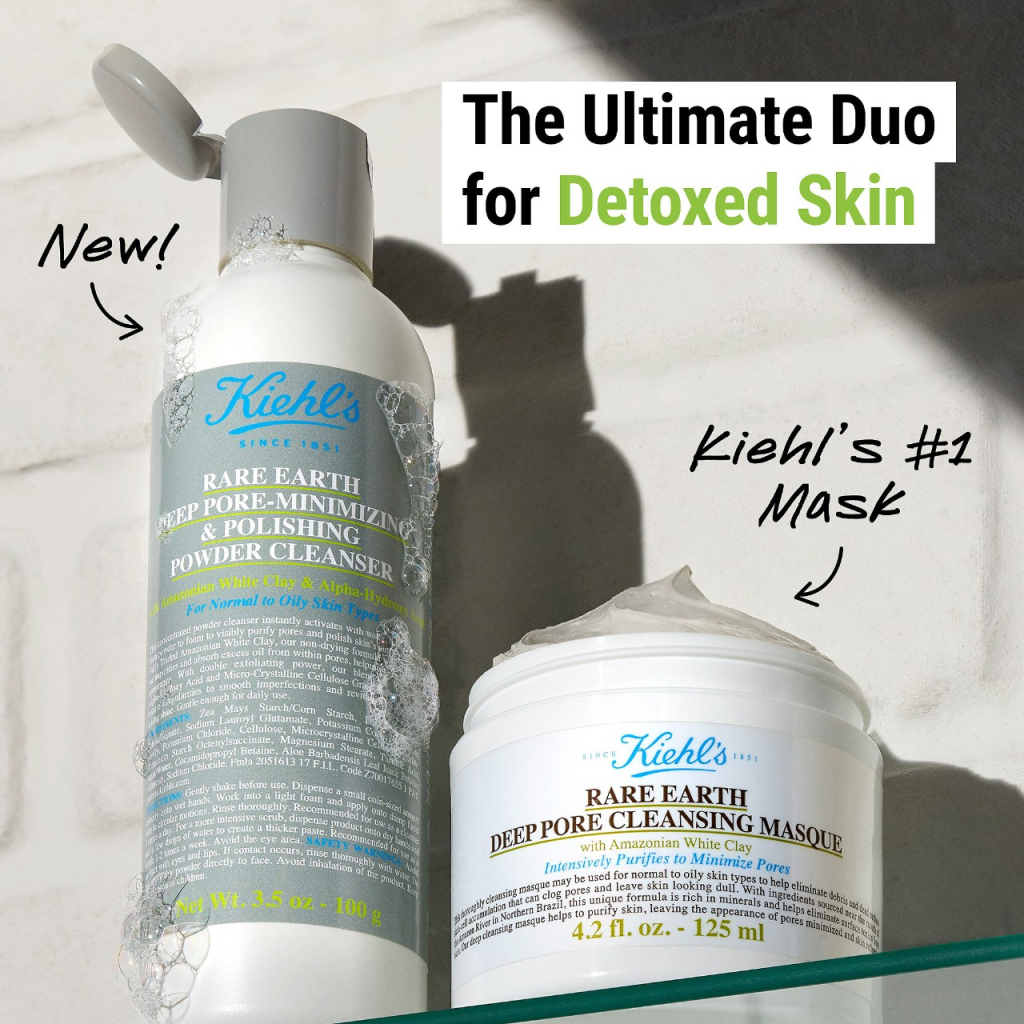 Oat Kernel Meal: The addition of Oat Kernel Meal adds an exfoliating element to the mask, contributing to a refined, smoother texture. As you massage the mask onto your skin and rinse it off, the gentle exfoliation helps slough away dead skin cells, promoting a brighter complexion and encouraging cell turnover. This synergistic blend of ingredients speaks volumes about Kiehl's meticulous approach to achieving a holistic skincare experience.
A Multifaceted Marvel:
The Rare Earth Deep Pore Minimizing Cleansing Clay Mask is a versatile gem that caters to a wide array of skin types and concerns. Whether you're battling with oily skin prone to breakouts or dealing with dullness and congestion, this mask has you covered. Its deep-cleansing action not only helps minimize the appearance of pores but also aids in refining skin texture over time. The result? A complexion that's smoother, more even-toned, and radiantly invigorated.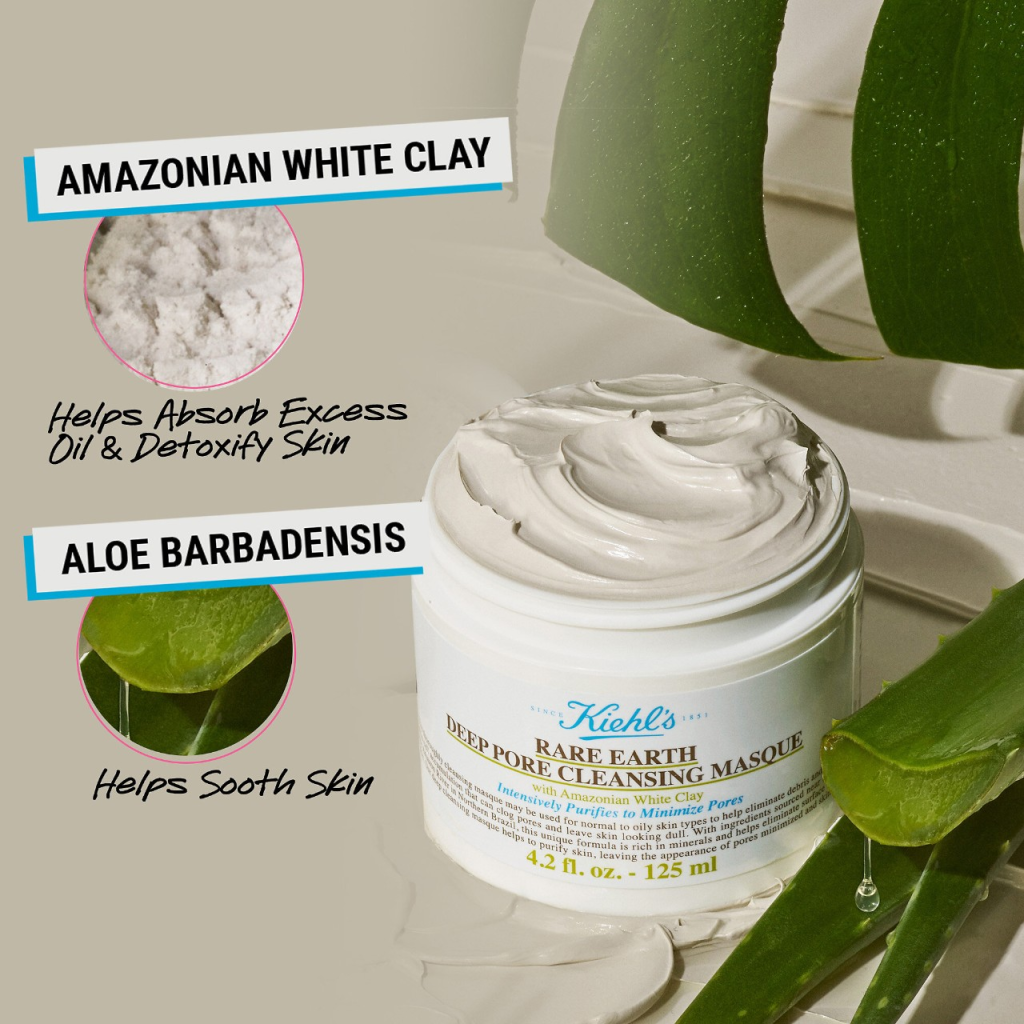 The Ritual of Transformation:
Incorporating the Rare Earth Deep Pore Minimizing Cleansing Clay Mask into your skincare routine is a ritual that extends beyond pampering—it's an investment in the health and vitality of your skin. Begin by cleansing your face to create a clean canvas. Gently apply a thin layer of the mask, focusing on areas prone to congestion. Allow the mask to work its magic for approximately 10 minutes or until it's dry, and you'll feel the subtle tightening sensation as it dries. As you rinse it off, take a moment to appreciate the immediate difference in your skin's texture and appearance.
A Final Word:
In a world saturated with skincare options, the Rare Earth Deep Pore Minimizing Cleansing Clay Mask stands as a testament to Kiehl's unwavering commitment to delivering results-driven products that honor both tradition and innovation. As we delve into the rich history of the brand and explore the meticulously chosen ingredients that define this transformative mask, it's evident that Kiehl's continues to redefine the boundaries of skincare excellence. So, whether you're a long-time Kiehl's devotee or a newcomer eager to experience the brand's magic, the Rare Earth Deep Pore Minimizing Cleansing Clay Mask beckons—an invitation to uncover the radiant, rejuvenated skin you deserve.