Read Time:
2 Minute, 59 Second
In the realm of skincare, the pursuit of timeless beauty has always been a driving force, and Lancôme has consistently been at the forefront of this journey. Introducing a true gem in its collection, Lancôme Absolue Precious Cells UV SPF50 stands as a testament to the brand's commitment to luxurious, effective, and holistic skincare. In a world where sun protection is paramount, this remarkable product not only shields your skin from harmful UV rays but also nourishes it from within, unveiling a radiant and youthful complexion that transcends time.
Sun-Kissed Glows, Safeguarded:
Picture this: a warm sun, a gentle breeze, and your skin bathed in luminosity. Achieving that sun-kissed glow while safeguarding your skin's health is a delicate balancing act, and Lancôme Absolue Precious Cells UV SPF50 is your perfect partner. With an impressive SPF 50, this sunscreen doesn't just protect your skin from sunburn; it forms a robust shield against harmful UVA and UVB rays, preventing premature aging, hyperpigmentation, and even more serious concerns like skin cancer.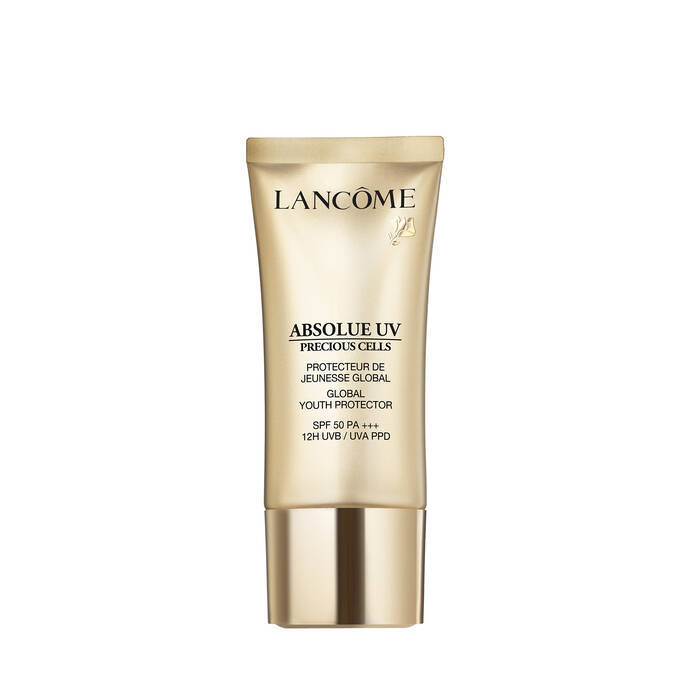 A Symphony of Active Ingredients:
The true magic of Lancôme Absolue Precious Cells UV SPF50 lies in its carefully curated blend of active ingredients, each chosen to provide your skin with an all-encompassing experience of pampering and protection.
Pro-Xylane™: At the heart of this formula lies Pro-Xylane™, a key player in Lancôme's skincare innovations. Known for its exceptional properties in promoting skin's firmness and elasticity, Pro-Xylane™ ensures your skin stays resilient and supple even in the face of environmental aggressors.
Vitamin E: Antioxidant-rich Vitamin E joins the ensemble, working tirelessly to neutralize free radicals and bolster your skin's natural defense mechanisms. This dynamic ingredient not only contributes to a more youthful appearance but also imparts a velvety texture to your skin, leaving it touchably soft.
White Iris Extract: Extracted from the iris florentina flower, White Iris Extract adds a touch of elegance to the formula. Its skin-soothing and moisturizing properties provide a gentle caress to your skin, ensuring that your beauty regimen is as nurturing as it is protective.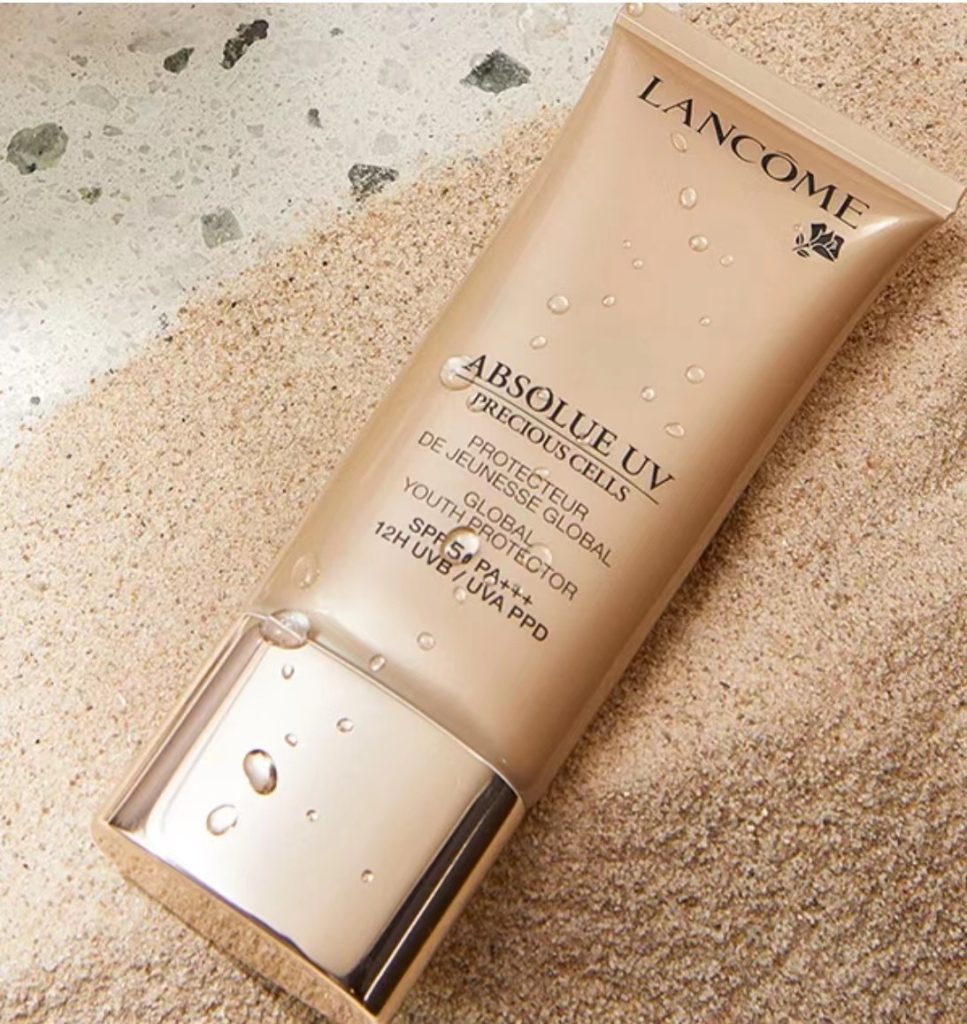 Indulgence Meets Efficacy:
Lancôme Absolue Precious Cells UV SPF50 is not just a necessity; it's a luxurious experience that elevates your skincare routine to new heights. The lightweight and fast-absorbing texture of this sunscreen seamlessly melds with your skin, cocooning it in a comforting embrace. The subtle floral scent is reminiscent of a blooming garden, creating a sensory journey that enhances your daily ritual.
A Partner for All Seasons:
One of the unique features of Lancôme Absolue Precious Cells UV SPF50 is its versatility. This isn't just a product for a specific season; it's a year-round companion that adapts to your skin's changing needs. Whether you're strolling through sunlit streets in summer or embracing the crisp air of autumn, this sunscreen ensures that your skin remains a canvas of radiance.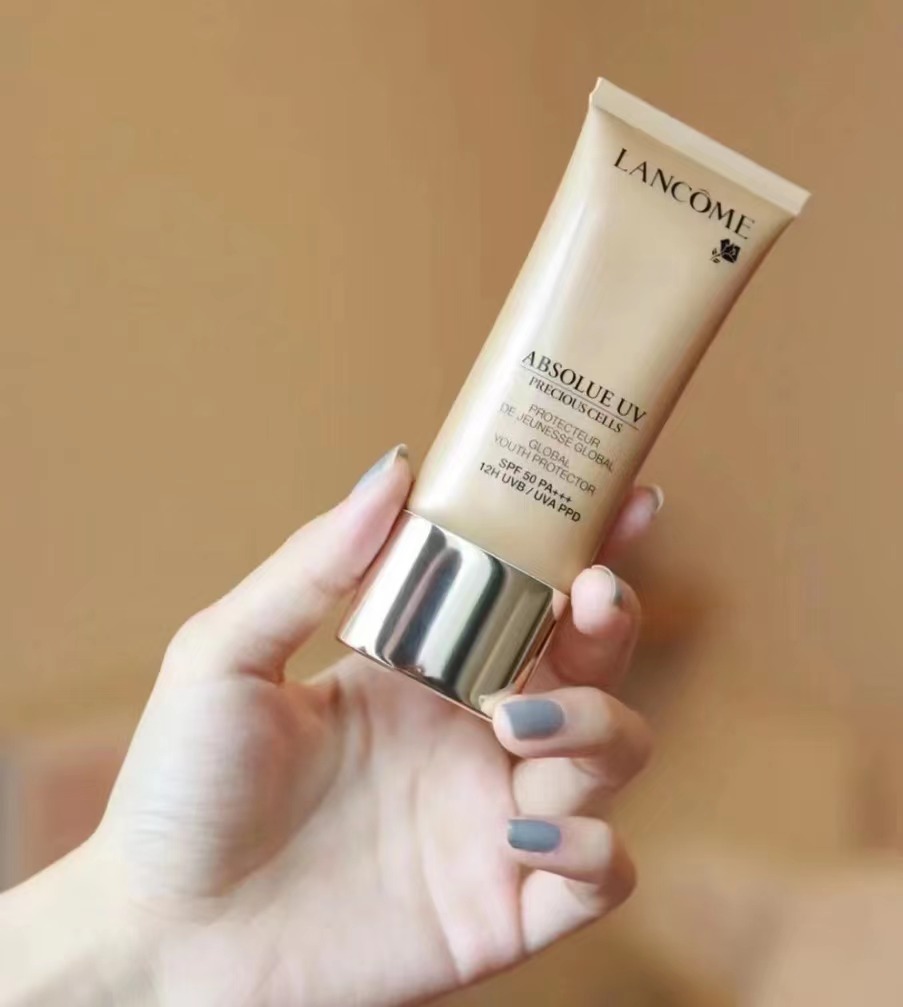 The Elixir of Time:
Lancôme Absolue Precious Cells UV SPF50 transcends traditional sun protection. It's a homage to the complexity and elegance of your skin, a commitment to safeguarding its vitality, and an investment in a future where your skin retains its youthful allure.
Incorporating this remarkable sunscreen into your skincare regimen is more than a choice; it's a declaration of your dedication to self-care. As the sun rises and sets each day, let Lancôme Absolue Precious Cells UV SPF50 be your constant companion, ensuring that your skin remains as breathtakingly radiant as the sun itself. Embrace luminosity, celebrate protection, and relish in the beauty of a product that encapsulates the essence of Lancôme's unwavering dedication to excellence.